Self-Care Journey Month 27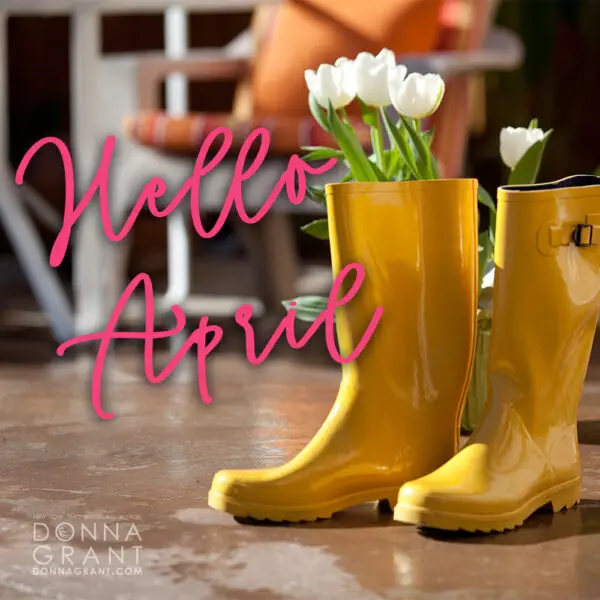 Spring has sprung! I don't know about everyone else, but my sinuses are feeling the brunt of it. However, I'm not going to complain. Everything is sprouting, which makes me very happy. March was a good month. A busy one, but good. I finished IRON EMBER, the first Skye Druid book that's out this October. I'm over the moon about this spin-off series for the Dark World. More on that to come.
One of the things I get asked quite a bit is about my self-care routine. If there's one thing I've learned since I began this journey two years ago is that starting small makes all the difference. There may be some who could start an entire routine filled to the brim and be fine, but for most people, it's all about learning what works and what doesn't. When I began back in January 2020, it was all about taking time for myself. I was the absolutely worst about putting everyone and everything ahead of myself. Realizing that and doing something about it was the key to my being where I am today. I always advise people to start there.
So, I started very, very small. I put myself first. It was such an alien thing for me, that it took me some time to actually adjust to that. I think it was a tad easier because my kids were grown and out of the house. My "small" was doing things for myself I had put off. I have always careful about things I ate and drank to be organic. I also had already taken the steps to ensure I used "clean" products for my hair, but I took it further. Every month, I tried new products. Sometimes they worked, sometimes they didn't. I took more baths. I sat outside and watched the birds. I read much more. I remembered my love of plants and filled the backyard. I took more walks with my dog, Sisko. I didn't schedule a time weekly. I just did them when it felt as if I needed it. Listening to my soul and hearing what it needed was like walking into the sunshine after a long, cold, dark winter.
From there, things morphed. It stopped being just about the products I tried. It turned into discovering me. Not me as a mom. Not me as a significant other. Just me. About this time, my two year relationship came to a very abrupt end. He's an alcoholic and things reached a boiling point that I had no choice but to leave. I stayed as long as I could (too long, actually) to try and salvage something. Part of my self-care journey was realizing that things end. Whether I want them to or not, they end. So, I moved out and got my own place. It was the first time in my life I lived totally alone. And I absolutely loved it. (Still do!)
I like an orderly house. Because my head has so much going on inside it, my space needs to be clean. Everything has its place, and it needs to go there. I wasn't picking up after anyone else anymore, and it was a joyous experience. My self-care then shifted to delving more deeply into learning all I could about things I'd always been interested in but just never looked deeper. With every week and month, I was discovering me. I took a crystals course because I've always loved them. I have them everywhere now. I took my love of plants to the extreme (if you ask my kids, lol) and have them everywhere inside my apartment. They're on the floor, on shelves, hanging from the ceiling. Because they make me happy.
But, I needed more. My mediations became a daily activity. For me, its best first thing in the morning. The use of my Calm app has been wonderful for this. Next, it was incorporating yoga more fully into my routine. It became an everyday thing. Because I love it. It also feeds my soul. This exercise fits me while I'd never do others. I was all about learning more about myself, about finding more inner peace. By this time, I was happy. For the first time in so very long, I could say it and truly mean it. All of that just made me want to discover more. I followed my soul to places like Girl and her Moon. I have a gratitude journal I try to write in every morning. (I'm pretty good since it's at my desk).
By the start of this year, I was in a very good place. I decided it was time to take a look at my routine and see what I could change or add. That's when I tried my first hair mask. Wow. I loved it. So, I try to do it once a week, usually on Sunday. I don't know why that's my day, but it is. After a month of this, when I stood in the shower waiting for the timer to go off on my mask (or I've turned the water off and I'm standing waiting for the time so I can rinse), I thought, I have time for something here. What could I do? Nothing came to mind, but a week later, I found this article about how important it is to take care of our feet, but most people ignore them. I loved the idea. I immediately bought a pumice stone and some foot lotion. I use the pumice when I use my hair mask. I put the lotion on my feet every night before bed, and I put cuticle oil on my toes after every shower. The difference in my feet have me smiling for sure. It has now been added to my routine. It wasn't long before I then included the cuticle oil to my nails at night, along with some hand lotion.
From there I began using body oil (Osea. Expensive, but ah-mazing! Neutrogena has a good one, too) after every shower before I pat my skin dry. My skin is glowing! And it's so soft. My latest addition has been eye masks on Sunday morning. (Again, I have no idea why Sunday is my day). I'm not a big face mask person, but give me eye masks, and I'm there. I don't know what I'll add next, but I have my routine because I started small and added things little by little. It's all about finding what works for you, and what you like.
I keep looking for things that interest me. I take chances. I listen to my heart and my soul. Neither have ever led me wrong. (I won't talk about how long it took me to actually listen to them, because I've written enough past blog posts for that. lol).
So, start your self-care journey at the place that you need. Be it buying that pretty underwear instead of the ten-year-old undies that are in your drawer (Throw those out. Seriously. It's time for new ones.), taking long walks, planning that trip, finding more time to read, discovering something that has always interested you, or just learning to listen to your heart/soul. Everyone has to begin somewhere. The first step is always the hardest, but once you start, it's only good things from there! Promise!
I leave  you with the Eagles this month.
xoxox,
DG
"To love oneself is the beginning of a lifelong romance."
~ Oscar Wilde