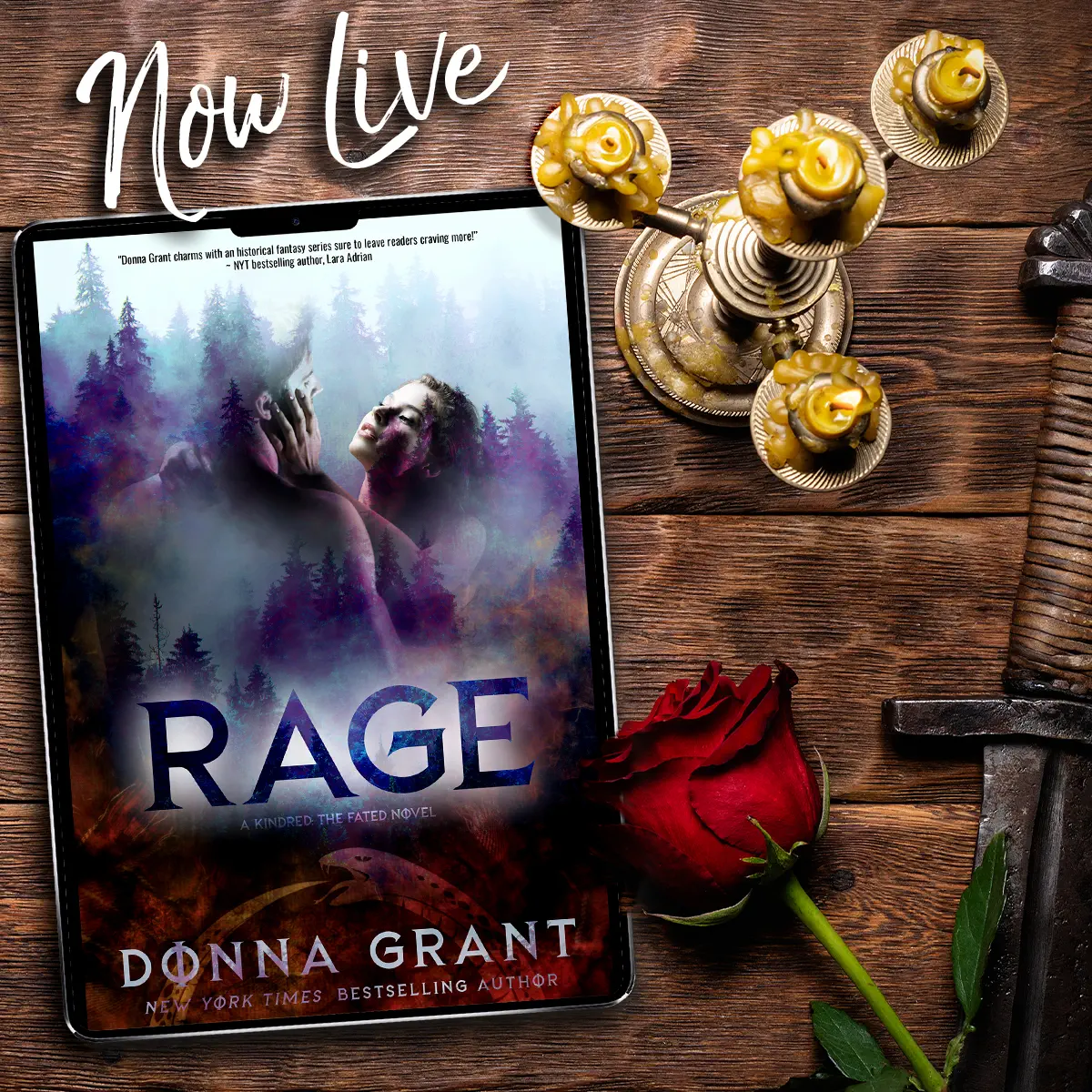 I'm absolutely delighted to be back in the Kindred world of my Witch Hunters, witches, warlocks, Highlanders, and mystical beings with the first in the Kindred: The Fated trilogy. This cover is everything, and it perfectly matches the main characters, Rob and Elin. Read RAGE if:
✔️ Highlanders
✔️ Medieval castle settings
✔️ Good vs evil
✔️ Fated love
✔️ Magical battles
✔️ Alpha heroes
✔️ Strong heroines
✔️ Different world tropes
✔️ Friends to lovers
New York Times bestselling author Donna Grant returns to her beloved Kindred world with an all-new, captivating fantasy romance trilogy sure to capture hearts.
Elin feels as if she's been in the fight of her life forever. She lost her mother to prejudice and misunderstanding and her sister to the Coven, not to mention her home and the freedom to use her magic without consequence. But she finally feels as if she has found a place to at least rest—that is if she can remain hidden.
When a mysterious illness befalls his clan, taking many lives, Rob Mackenzie finally goes to check on the person squatting in the cottage on his family's land. He hopes to find help. He doesn't expect the most enchanting and enigmatic woman he's ever seen or the way she makes him feel—the passions she rouses. But it's clear she has secrets, and earning her trust may be the toughest battle of his life.
When the truth comes to light that a witch has been targeting the Mackenzie clan, Elin can't remain sequestered. She knows she can help, and some things are more important—especially when they include saving the man she has quickly come to love. But it means revealing her secret to him and those who have hunted her kind for eons. Those who see anything they don't understand as evil. Still, Elin hasn't been able to safeguard those she's loved in the past. She has to at least try to save Rob and his family.
Even if it means her end.
GET YOURS
EBOOK:
Kindle :: Nook :: Apple :: Kobo :: Google
Tag me on social media if you're reading RAGE!
Facebook – @AuthorDonnaGrant
Tiktok – @DonnaGrant_author
Instagram – @DGAuthor