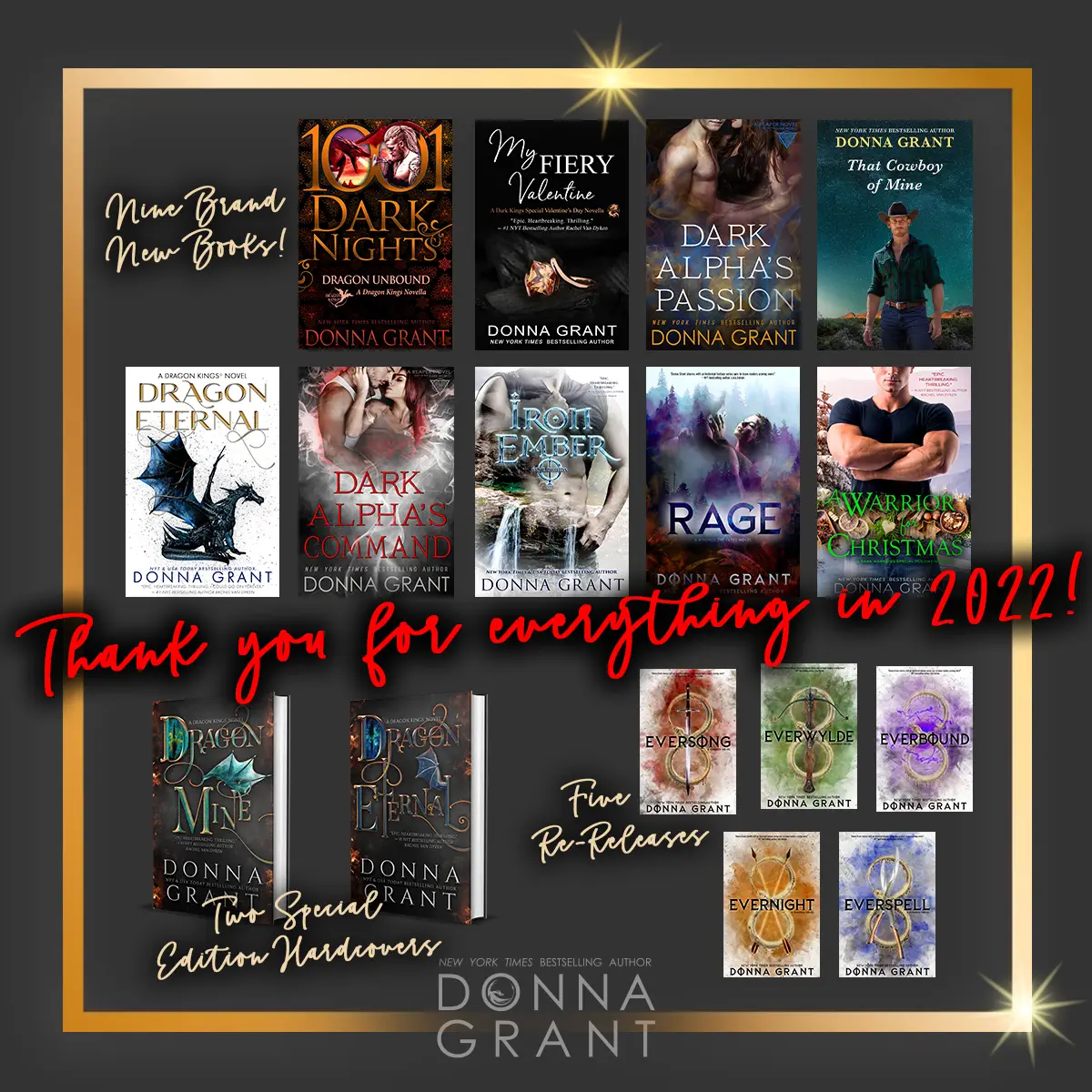 It's that time again. The time to look back at the past year—and look ahead to the new one.
2022 was a year of a lot of ups and a lot of downs. And twists. And curves. Here are some of my highlights:
I wrote 615,731 words or 9 books
Released 9 books
Released 2 special hardcover editions of the Dragon Kings
Started 2 new series
Relaunched a backlist series
Hit the USA Today bestsellers list with DISSENT an anthology for women's reproductive rights
Attended RAM (writer's conference) and Sultry in the City (reader conference)
Took 4 online workshops
Sliced off the tip of my ring finger (that still bothers me 11 weeks after it happened)
Read 52 books this year
Didn't put a dent in my TBR pile. It actually grew. (but that's what's supposed to happen, right?)
2023 is going to be a kickass year. There are some secret things in the works that will be announced next year. I also have a packed release schedule, two events (Book Bonanza and Readers on the River), an author's retreat, and, hopefully, an actual vacation.
Every month I listed my favorite things (movies, books, TV shows). I've got the TOP 5 for each from the year.
MY TOP 5 TV SHOWS
The Witcher
Bridgerton
The Rings of Power
Wednesday
For All Mankind and The Sandman tie
MY TOP 5 BOOKS
Kelley Armstrong's Casey Duncan (Rockton) series.
Kelley Armstrong's A Rip Through Time
Samantha Young's Adair Family series
Linda Castillo's The Hidden One
Lorraine Heath's Beauty Tempts the Beast
MY TOP 5 MOVIES
Glass Onion
Top Gun Maverick
The 355
Violent Night
Jurassic World
From my heart to yours, I'm wishing you a very Happy New Year full of gratitude, health, love, and kindness!