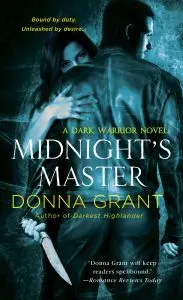 How neat to find out that RT Book Reviews Blog Forewords mentioned me *and* the Dark Warriors series.
Under the "Returning Favorite Series" it says…
Paranormal Romance – There are more sexy heroes ahead for fans of Donna Grant's paranormal Dark Warriors series (a spin-off from the author's popular Dark Sword series). Grant will be adding to the series with four print books and three e-originals! Fun fact, the working title for each of the first four tales in this series includes the word "Midnight's" …
Whoohoo!  Thanks for the mention RT Book Reviews!
I'm anxious for these books to hit the shelves.
hugs,
D