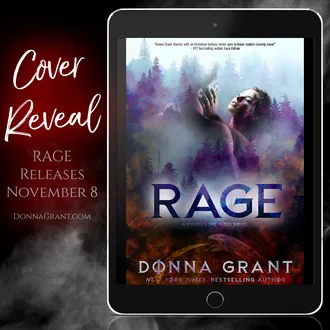 I've had so many of you asking when there would be another Kindred book, and I'm pleased to announce that RAGE is the first in the new spin-off trilogy that will feature three (fan favorite) heroines from the Kindred series that had yet to find their HEAs.
Look for this trilogy of novelettes (half books) to be released every six months starting this November!
New York Times bestselling author Donna Grant returns to her beloved Kindred world with an all-new, captivating fantasy romance trilogy sure to capture hearts.
Elin feels as if she's been in the fight of her life forever. She lost her mother to prejudice and misunderstanding and her sister to the Coven, not to mention her home and the freedom to use her magic without consequence. But she finally feels as if she has found a place to at least rest—that is if she can remain hidden.
When a mysterious illness befalls his clan, taking many lives, Rob Mackenzie finally goes to check on the person squatting in the cottage on his family's land. He hopes to find help. He doesn't expect the most enchanting and enigmatic woman he's ever seen or the way she makes him feel—the passions she rouses. But it's clear she has secrets, and earning her trust may be the toughest battle of his life.
When the truth comes to light that a witch has been targeting the Mackenzie clan, Elin can't remain sequestered. She knows she can help, and some things are more important—especially when they include saving the man she has quickly come to love. But it means revealing her secret to him and those who have hunted her kind for eons. Those who see anything they don't understand as evil. Still, Elin hasn't been able to safeguard those she's loved in the past. She has to at least try to save Rob and his family.
Even if it means her end.
PRE-ORDER YOURS
EBOOK:
Kindle :: Nook :: Apple :: Kobo :: Google (coming soon)